SHIPPING & RETURNS
Please note: We operate this site to serve our regional and domestic professional end-users. We reserve the right to reject any order that appears to be intended for resale or export. We reserve the right to reject any order which we will not be able to fulfill. Acceptance of all orders will be at the sole discretion of WAHL CLIPPER CORPORATION.
SHIPMENT PROCESSING TIMES
Processing times are separate from the shipping times you may see during checkout. All orders are processed the same day if an order is received in our systems before noon (12:00 GST). Processing time excludes weekends, national holidays, and Eid holidays.
SHIPPING RATES AND ESTIMATES
For calculated shipping rates: Shipping charges for your order will be calculated and displayed at checkout.
Shipping times: Please keep in mind, these dates are our best-estimated delivery and actual delivery times are subject to change. Remote area deliveries can take up to 15 business days (based on our last-mile delivery partner schedule).
| | | |
| --- | --- | --- |
| Region | Shipping (Business Days) | Shipped from |
| UAE | 1-2 Days | UAE |
| Saudi Arabia | 1-2 Days | UAE |
| Kuwait | 1-2 Days | UAE |
| Algeria | 2-3 Days | UAE |
| Egypt | 2-3 Days | UAE |
| Morocco | 2-3 Days | UAE |
| Lebanon | 2-3 Days | UAE |
| Qatar | 1-2 Days | UAE |
| Bahrain | 1-2 Days | UAE |
| Oman | 1-2 Days | UAE |
| Pakistan | 3-4 Days | UAE |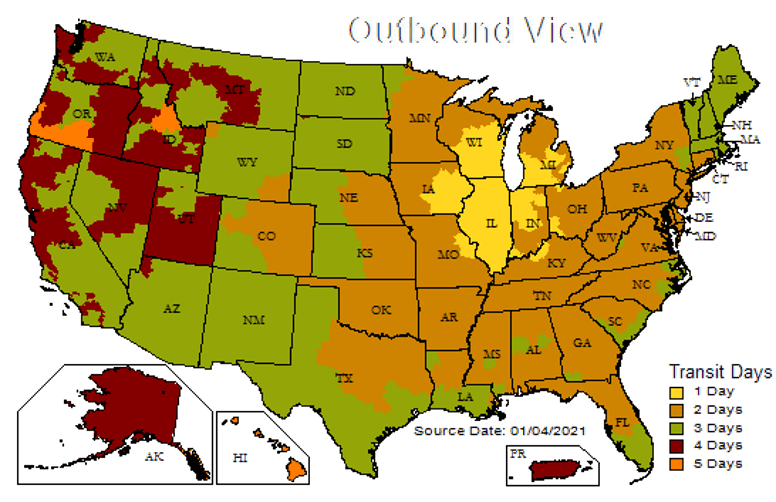 HOW DO I CHECK THE STATUS OF MY ORDER?
When your order has shipped, you will receive an email notification from us which will include a tracking number you can use to check its status. Please allow 48 hours for the tracking information to become available.
If you haven't received your order within 15 days of receiving your shipping confirmation email, please contact us at support@wahl-mea.com with your name and order number, and we will investigate it for you.
SHIPMENT TO MULTIPLE ADDRESSES
If you're shopping for several people at once and want to ship your various items to several addresses, you must place a separate order for each address. A single order cannot be shipped to multiple addresses. Applicable shipping fees, duties, and taxes apply to each order placed. Addresses can be saved for later.
HOW CAN I CHANGE THE DELIVERY ADDRESS AFTER PLACING AN ORDER?
You can reach us at support@wahl-mea.com with the new address for delivery. We will review the status of your order and update you.
Only if the order is not shipped out, we will be able to change the delivery address. "Our deliveries go out each day at 12pm Gulf Standard Time"
INTERNATIONAL DELIVERY
Depending on the specific product you have ordered and the country we are shipping to, our courier partner might ask you for certain documents (e.g. National ID, Tax ID, or NOC letters) which need to be shared by you, in order to complete and clear the requirements of the customs department. Please find below the details for each country we are shipping to:
Country
Customer/Consignee ID Required
United Arab Emirates
DXB: ID not required
AUH: cnee needs to register with customs for an importer code, that is valid for 1 year
AUH: ID is requested to create an IOR if the shipment needs any OGA approvals (Other Government Authorities viz. MOH, ADFCA, etc.)
Saudi Arabia
YES - ID (residency/IQAMA number) required where value > USD 266.
Oman
YES - ID required if value above 300 OMR for air shipments, or weight above 25 kg for road shipments
Kuwait
YES - ID required if value > 5000 KWD
Qatar
YES - ID (QID / Passport numbe) required on AWB for every import
Bahrain
YES - ID required where value > deminimus (300 BHD)
Algeria
May be required if the shipment is held by customs
Morocco
YES - image copy of ID/Passport
Egypt
YES - image copy of ID/Passport
Lebanon
YES - ID required for formal clearance
Jordan
NO
Pakistan
YES - ID number if value > 400 USD (formal clearance)
For most shipments, customs/import duties will be included in the checkout to offer the best costumer experience.
Customs duties and any handling charges vary from country to country and are usually paid when the order reaches its destination country. If the complete custom duty and taxes were not included in the checkout, the customer/consignee will have to bear the cost of importing the goods as per the local custom duties and taxes.
Shipping, Customs duties, and taxes are non-refundable once charged. If you refuse delivery, unfortunately, we will have to deduct the above in addition to the cost of return from the refund amount, since the courier will have already paid the charge on your behalf.
It is essential that you stay a step ahead by getting familiar with these common customs documents before placing an order to avoid any such inconvenience.
WHAT IF THE ITEM I RECEIVED IS DAMAGED ON DELIVERY?
We're extremely sorry to hear that the product you received was damaged. Rest assured, we're here to help you. Please save all packaging material and damaged goods before filing a claim. Please send a video & images of the damaged product to our support team at support@wahl-mea.com or upload the same to your account on mea.wahl.com while placing a return request.
The video should include the following aspects of the product:
Plugged into a working power socket in the video
Turn on/off the power switch to show the dysfunction of the product
Charged for at least 30 minutes before the test and should be plugged in while testing
Once the team confirms the dead on arrival / damaged product (up to 2 business days), they will raise a return request with our delivery partner and share with you the details (return Air waybill) for pickup of the damaged item and delivery of the new product.
RETURNS
In case the product ordered was damaged in transit or was dead on arrival, we will gladly accept your returns within 14 days of your delivery date for a refund.
Since the products offered are in the personal grooming segment and are a matter of hygiene, we will not be able to offer returns for products that are in working condition.
Currently, we can only accept returns for products purchased on mea.wahl.com. For purchases made through a retail store, marketplace, or other outlets, please return them to the original place of purchase.
Your refund of the original purchase price will be issued in the same form as the original payment.
The original customs, taxes, shipping, and handling will not be refunded. Please allow up to 15 days to process your refund from the time we receive your return.
All items are quality controlled and checked for any faults before they are dispatched to customers. Should you receive an item that is not in perfect condition please contact us immediately.
To ensure that your return is adequately protected in transit, we ask that you send your items to us in the original packaging provided with your order.
You must request a Returns Authorization Code (RAC) within 7 days of receipt of your goods. After receiving your RAC number, you need to return the goods within 7 days of receiving the order.
EXCHANGES
Exchanges are not currently supported by our returns process. If you have questions, don't hesitate to reach out. We are happy to help you find the right product for your needs!
Please note: We cannot accept a return (even within 14 days of delivery) in certain situations, including, but not limited to:
Products showing excessive wear and tear, or at the end of their intended lifespan.
Used products, as it is a hygiene product
Items damaged by misuse, alterations, improper care, or accidents.
Items listed as a final sale at the time of purchase.
Instances of abuse of the Wahl Return Policy.
The acceptance of a return is determined at the sole discretion of Wahl Clipper Corporation.
HOW LONG WILL MY RETURN TAKE TO PROCESS?
Your refund will be issued in the same form as the original payment within 15 days of receiving your return order. We can only accept returns if the merchandise was directly purchased from mea.wahl.com. At this time, we cannot process returns from retail stores and other online retailers.
Please Note: The original Duties, taxes & shipping will not be refunded. If you need assistance, please call customer service at 800-WAHL(9245).
HOW DO I CHECK MY RETURN STATUS?
After you have returned your order, you can check its status online any time by entering your order number on the returns page. Or, if you have a mea.wahl.com account, you can check return status at My Account. Click on My Returns in the left panel. You will see a list of started and completed returns.
Have additional questions? Visit our help desk for answers to all your questions about our return process, orders, and all your favorite Wahl products.